iPhone and iPad: The Ideal Travel Camera
[Apps, Gizmos and Techniques for Creative (and fun) iPhone/iPad Photography]
TPS and the Richland College Photography Department are thrilled to jointly present this exciting hands-on workshop with Dan Burkholder, fine art photographer, author and educator based in Palenville, New York. This workshop is proudly hosted in conjunction with our call for entry, FotoTexas: People, Places & Culture, juried by Burkholder, which will include supporting events. Read more here.
Sorry, this workshop is now full!
Location: Richland College Photography Department, Dallas, Texas
Date: Friday, October 21, 2016
Time: 10:00am - 3:00pm (with 1 hour lunch break)
Class Size: 15 Participants
Workshop Fee: $150
Workshop Description
Whether you're on vacation or simply a photographer on the go, learn to enjoy amazing image capture and processing power in the palm of your hand.
Please bring your fully charged iPhone and/or iPad with you to class!
Learn how to design your ideal iPhone/iPad travel package with lenses, apps, storage and other hardware along with software goodies that will keep you shooting and enjoying your trip (instead of feeling like a Sherpa with heavy cameras and laptops)
Develop an iPhone/iPad workflow that is personalized for the way you shoot and ruminate when traveling
Explore exciting panoramas (up to 63MP!), HDR (High Dynamic Range) imagery and layering techniques to build exquisite iPhone photos
Discover special techniques to best prepare your images for incredible print quality
Understand how to share your photos as real hard cover books that can be waiting for you when you return home!

Your travel photography will be more creative and more fun than ever before, as you unleash powerful ways to create professional fine art images with your Apple mobile device.

Special Note
Android phone users may shoot with their phones as long as they have an iPad for image processing and organization.

Workshop Registration
To reserve your place in this workshop, please select the "Register Now" button above and follow the prompts to complete your payment online. You will receive a confirmation email from TPS with more details within 1-2 days of registration.
Workshop Location
The Richland College Photography Department in Dallas, Texas, will host this workshop on campus at Thunderduck Hall (T Building) in Room T249. You may refer to the campus map for more details. Parking lots "A" and "B" are closest to Thunderduck Hall.
About the Instructor
Dan Burkholder, fine art photographer, author and educator based in Palenville, New York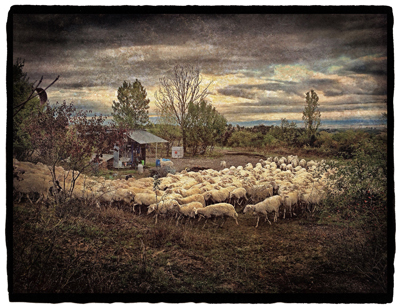 Dan Burkholder has a long history of looking beyond the photographic horizon to explore, teach and exhibit the next great thing in imaging. His book, iPhone Artistry (Pixiq Press, 2012), is the universe's most comprehensive and fun how-to book for iPhone photographers. His poignant monograph, The Color of Loss (University of Texas Press, 2008), intimately documented the flooded interiors of post-Katrina New Orleans.

Dan earned his B.A. and Master's degrees in Photography from Brooks Institute of Photography in Santa Barbara, California. His platinum/palladium and inkjet prints are included in private and public collections internationally. Read more about Burkholder at www.danburkholder.com.
Cancellation Policy
Should you need to cancel, please notify us at least 7 days prior to the workshop in order to receive a full refund.
Questions?
Please contact TPS Executive Director Amy Holmes George at amy@texasphoto.org with any questions about this workshop.